Employer Success Story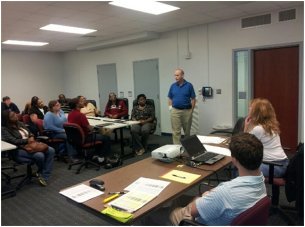 Cooper Standard Automotive, Spartanburg Plant, has partnered with SC Works Spartanburg and Ready SC, to hire new employees for an expansion in the manufacturing of sealing systems for Chevy trucks. This sealing platform includes parts for the Chevy Tahoe, Denali, Suburban, and Silverado.
Currently SC Works has recruited and hosted multiple information sharing sessions, introducing qualified candidates to Cooper Standard's Human Resources Department. This new platform has created as many as one hundred new jobs, with SC Works Spartanburg playing a vital role in the recruiting process, drastically reducing the need to utilize staffing agencies. Cooper Standard HR Manager, Warren Snead, has commented on several occasions that SC Works staff has provided "exceptional groups of candidates."
Additionally, Cooper Standard and SC Works Spartanburg successfully entered into an On-the-Job Training (OJT) Agreement, in December of 2013. This OJT resulted in the hiring one of SC Works Workforce Investment Act (WIA) candidates. With this agreement in place, SC Works will reimburse Cooper Standard up to fifty percent of this employee's reimbursable wages, for up to three months.
---
WIA Success Story
Trevon Clark attended WIA Orientation on November 2, 2013. At this time, he lacked a high school diploma, but had dreams and goals of establishing a career. Trevon dropped out of high school in the ninth grade, but he realized the importance of education. Although he had been able to secure employment at various times, those jobs didn't provide sustainable wages and made it difficult to meet his financial needs. Trevon lacked the skills and education required to obtain sufficient wages. At his own expense, and prior to WIA Orientation, Trevon enrolled in GED classes at Adult Education. He successfully completed his GED on November 9, 2013.
On January 14, 2014, Trevon was enrolled into the WIA program. He appeared extremely excited about the opportunity to gain marketable skills and possibly train for a new career. Trevon was eager to complete all assignments and submitted them in a timely fashion. He began to research various occupations and it was decided that he would benefit from industrial training, based on his assessments and labor market research. He had expressed an interest in welding, and found that it was a high demand occupation. Trevon researched local schools offering welding classes and decided that Arclabs would be a great fit for him. He contacted Arclabs to determine their course outline and length of training. Because he could complete training in ten weeks, this was his best option.
Trevon was approved to attend Arc Labs for welding and began classes on February 3, 2014. He successfully completed training on April 1, 2014. Additionally, Trevon began working as a welder at Steel Works on April 17, 2014, earning $14 hourly.
---
Youth Success Story

Payton Deal enrolled at ACHIEVE in June 2013, after being referred by the Department of Juvenile Justice, at age 15. By August 2013 she had faithfully attended classes, completed pre-employment training, taken WorkKeys and obtained her GED. She had a goal to attain her GED by the age of 16 because she has a young son and husband, for which she wants to provide a bountiful future for and with. While she may be young she has overcome many obstacles in her life. Payton worked hard to take her GED exam as soon as possible so that she could begin classes at Spartanburg Community College (SCC) in the fall semester. She is now enrolled in the Patient Care Technician program at SCC and desires to be a nurse. ACHIEVE looks forward to follow-up with Payton in her endeavors for the next twelve months.