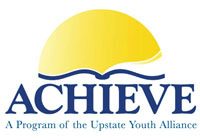 The ACHIEVE (Academic Challenges Helping Individuals Expand Values and Education) Program is administered by the University of South Carolina Upstate. They are an educational and employment program that serves high school dropouts (ages 16 - 24) from Cherokee, Spartanburg and Union counties.The Program is also open to high school graduates who are unemployed/underemployed and/or need basic skills improvement.
The ACHIEVE Program works with out-of-school youth by helping them work towards completing their education, finding employment and enhancing their self-esteem in order that they might become productive citizens.
Some services include:
GED Program
Participants receive individualized and group instruction in writing, science, social studies, literature and math in preparation for the GED exam.
Pre-Employment Training
Participants learn the skills and attitudes needed to succeed in the working world. This training will consist of preparing resumes, completing applications, practicing interview skills, learning to maintain a job and taking the WIN Learning Assessment.
Life Skills
Participants learn about nutrition, family planning, positive social behaviors, drug abuse, consumer credit and the court system.
Job Placement
This service helps participants find and keep unsubsidized jobs (work experience jobs are available).
Transportation
Transportation is available to and from the training site in Spartanburg
Eligibility Requirements
16- 24 years of age
High school dropout and/or high school graduates seeking basic skill improvements
Resident of Cherokee, Spartanburg or Union county
Must meet federal standards for eligibility and supply requested documentation for certification into the program.
Location:
220 East Kennedy Street
Spartanburg, SC 29302
Mailing Address:
800 University Way
Spartanburg, SC 29303
Phone: 864-764-1977 or 864-680-6664 TTY: 711
Website: https://www.uscupstate.edu/outreach/achieve/
---


YouthStop™ is an educational services center and program designed to assist Spartanburg, Cherokee and Union county students in obtaining a high school diploma and in making a successful transition to post-secondary education or to the workplace. Selected students will be eligible for a wide variety of academic and support services through participation in the Alternatives in Motion (AIM) for Success program model.
Some services include:
Credit recovery, new course attainment and dual credit. All academic services are provided in close consultation with the staff of the sponsoring school. Coursework is part of the standard curriculum and is offered within the mainstream of the high school. Tutoring and after-school assistance may be offered both on and off site as needed.
Paid work experience. Students have an opportunity to work with local businesses to gain valuable work skills and experience. The YouthStop's ™ business partnerships facilitator tailors each placement for maximum benefit to the student. Payment and liability insurance is provided through the program. Because the payment is considered a stipend, no federal or local taxes are charged. Work experience is generally available to senior students who have shown effort and focus in attendance, academics and behavior.
Employability and life skills training. Students will complete employability training in order to improve practical skills related to entering the workforce. Life skills training addresses issues such as conflict resolution, stress and time management and setting goals
Counseling conducted by an on-staff social worker. Referrals to other agencies are provided whenever necessary.
Supportive services such as work clothing and/or transportation. Services are provided on an as needed basis.
Expanded field trip options including college visits, cultural events and career exploration activities
Assistance in post-secondary, military and/or workforce placement after program completion and receipt of diploma.
College planning Students participate in "Connect to College through Community." The program offers guidance and support for all aspects of college planning from the initial search to enrollment. Topics include SAT/ACT/ASVAB preparation, choosing a program of study and navigating the financial aid system.
Each student must:
meet federal standards for eligibility and supply requested documentation for certification into the program.
attend all instructional and training assignments or provide adequate documentation for an excused absence.
exhibit appropriate behavior at all times
be a resident of Spartanburg, Cherokee or Union counties.
Location:
101 N. Pine Street
2nd Floor
Spartanburg, SC 29302
Phone: 864.583.4433 | TTY:711

Website:www.youthstop.org